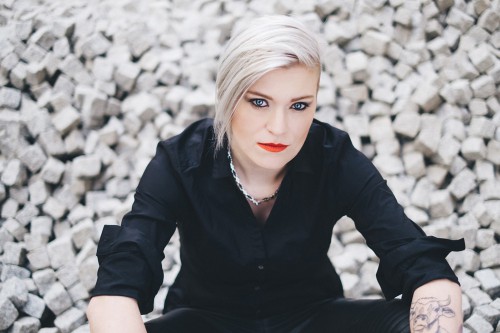 Chroma mag es, den Elektro Floor bei L-tunes zu bespielen. // Chroma likes playing the L-tunes electro floor. //
Wer versucht, Chroma in eine Genreschublade zu stecken, beißt sich die Zähne aus. Zwar hat sich die Djane und Produzentin hauptsächlich dem Minimal verschrieben – wer aber schon einmal ein Set von Chroma gehört hat weiß, dass auch ganz schnell ein kultiger Popschinken aus den 80er/90ern dabei sein kann. Und so verweben sich diese Dancefloor-Exoten mit knackigem Techno, Tech House, Deep-House und House zu einem eklektischen und doch völlig einzigartigen Sound.
Chromas Herz schlägt schon lange im elektronischen 4/4-Takt – 1996 entdeckte sie ihre Leidenschaft für Musik und Szene, 2001 begann sie schließlich damit, ihre heißgeliebten Vinyls selbst zusammenzumischen. Mit Erfolg: Bald darauf organisierte sie selbst Techno & House Partys im Oxyt Musikclub in Lutherstadt Wittenberg. Der Umzug in die Technohauptstadt Berlin war eine logische Konsequenz, und Chroma wurde mit ihrem sicheren Händchen für gute Tracks und ihrer unbändigen Leidenschaft hinter den Turntables bald zur festen Größe in der Partyszene.
Mit Inxcess fand Chroma schließlich auch den perfekten Komplizen, um eigene Tunes zu produzieren. Mehrere Releases beim Berliner Label STIL VOR TALENT folgten, darunter der Floorfiller "Snort My Violin". Mit Miro Pajic holte sich Chroma einen weiteren Co-Produzenten an die Seite, um unter anderen "Crack Line" bei Tic Tac Toe Rec. herauszubringen. Im Moment schließt sich Chroma wieder regelmäßig im Studio ein, um an einem Soloprojekt zu arbeiten.
Neben grandiosen DJ-Sets und eigenen Produktionen sorgt Chroma dafür, dass die Berliner Szene regelmäßig mit guten Partys versorgt wird. So lädt "EINMAL DISCO BITTE!" 2 bis 3 Mal im Jahr zum Minimal Rock'n'Roll, in der Vergangenheit zum Beispiel im Arena Club oder im Kater Holzig. Weitere Partyreihen sind "Un Poquito Sleepless" und "Un Poquito Lipstick" .
If you'd try to find a single genre that classifies CHROMA's sound, you'd definitely end up failing. Although this DJ/producer's heart is beating for minimal, she can also easily drop in a 90s pop song into her sets, and it's these kinds of exotic, unexpected sounds that merge with bouncy techno and deep house (and all permutations in between) that create an eclectic, yet unified, style.
CHROMA's heart has followed an electronic pulse for quite some time now, having discovered her passion for this kind of music in the mid 90s. She finally dared to step behind the decks herself in 2001, DJing and developing the local scene by organizing parties at OXYT MUSIKCLUB in Lutherstadt, Wittenberg. It was only a matter of time, then, that CHROMA would move to the world capitol of techno: Berlin. With her technical prowess behind the turntables, her well-chosen track selection and her ability to entertain the crowd on a personal level, CHROMA quickly established a name for herself amongst the city's DJ community.
In teaming up with INEXCESS, she finally found the perfect partner in crime to start producing original tunes. Following several releases on the respected Berlin label STIL VOR TALENT (including the minimal floor-filler "Snort my Violin"), CHROMA teamed up with MIRO PAJIC for the track "Crack Line" issued on TIC TAC TOE RECORDS. Currently, CHROMA has locked herself in the studio to focus on her solo project.
Aside from her standout DJ sets and productions, CHROMA contributes to Berlin's vibrant party scene, promoting the EINMAL DISCO BITTE! series, which takes place two to three times a year at popular locations such as ARENA CLUB and KATER HOLZIG. Other events that CHROMA has organized include UN POQUITO LIPSTICK as well as UN POQUITO SLEEPLESS, the name reflecting her restless attitude and endless ambitions…