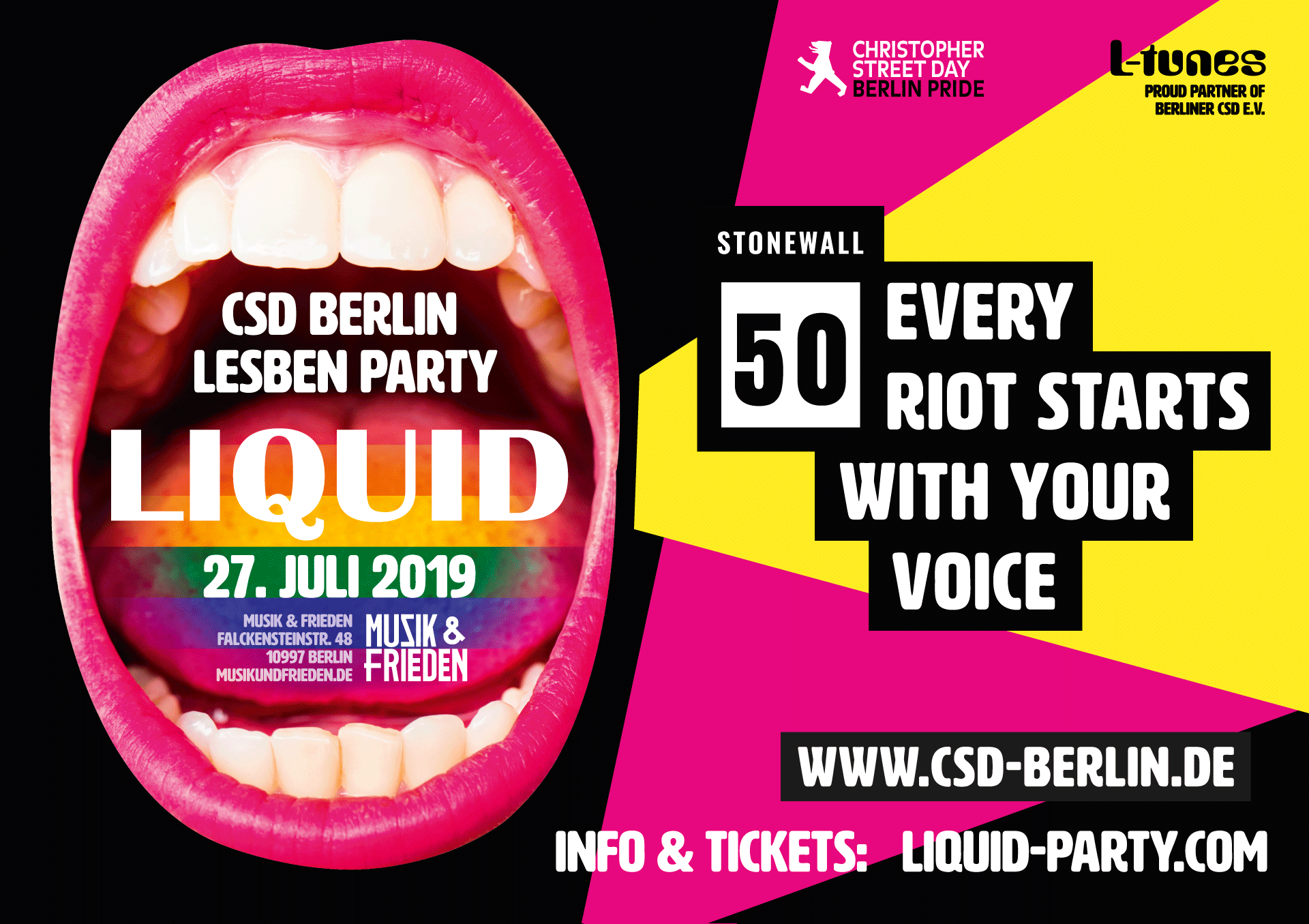 Offizielle CSD LESBEN PARTY Berlin 2019 / Official LESBIAN PRIDE PARTY Berlin 2019
LIQUID
– Proud Partner of Berliner CSD e.V. –
CSD LESBEN PARTY / LESBIAN PRIDE PARTY
– trans*, bi, straight & queer women and best friends welcome –
27 JULY 2019
21:00 @ Musik & Frieden
Falckensteinstr. 48, 10997 Berlin
U-Bhf Schlesisches Tor
Der Vorverkauf ist beendet – es gibt ausreichend Tickets an der Abendkasse!
Ticket presale is over – there are enough tickets on the door for everybody!
LIQUID @ MUSIK & FRIEDEN – Location-Homepage
DJs
GINA-G, MISS MO, SARA MOSHIRI, MARSMAEDCHEN, SAM SONITE u.a.
LIVE | ENTERTAINMENT
RAG DOLL
THE LIQUID CIRCUS SHOW mit FOXIC POISON , LEXY NIGHTCAT und Oh!
MALONDA
Calling all Lesbians, Dykes, bisexual women, queer women, trans* women, women loving women, undecided women, straight allies and friends to this lesbian melting pot peak of the year highlight event.
Rise against sexism, racism, gender stereotypes! Forward feminism, forward equality, forward freedom! Create lesbian visibility – lesbian rights are human rights! The situation of lesbian issues is a determining test for the equality of ALL women's rights in any given society – whatever your gender identity or sexual orientation!
Become allies! Participate in the Pride Demo and make yourselves visible together – lesbians, bi, trans*, inter*, gays, pan*, undecided and straight allies – embrace your differences and stick together, support each other, network for a better future and rally together!
Peace & Love